As a professional guitar player, singer and music producer, Enrico Novi provides a high-class musical accompaniment for your private or public event, such as business events, birthdays, weddings, concerts, river cruises, winetastings ….  A unique music experience.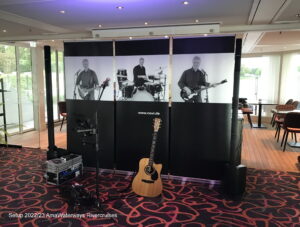 Style: Great classics of pop- and rock-history, from acoustic ballads to standards for dancing and rocking. All coversongs listed under "Repertoire".
Even though there´s only one person on stage, you´ll hear an entire band. That´s because in addition to live guitar and vocals, Enrico is accompanied by himself on drums, bass, electric guitars & backup vocals – or as he says with a wink: "my three twin brothers in the back are the best band I ever played with – always in time and great sound!"
The creative process of recording and stereo mixing in his own studio takes at least 2 – 4 days for each song.
Every sound is "home-made" with passion and great attention to details.
To get an impression about Enrico Novi as a songwriter and to enjoy his own songs, please go on Spotify or other streaming services.
4 albums have been released.
Latest album: "Destination", released Dec. 2021.
For booking or feedback please write or call:
music@novi.de   Tel. 0049-173-7007106 (also for Signal/Whatsapp/Facetime)