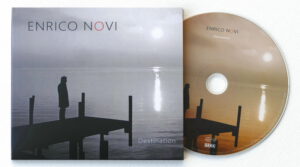 First single on Spotify: Now there is you.
The motivation for a new album came in early spring of 2021. I thought of my approaching 60th birthday in October and asked "what have I achieved so far, and what's next?" The clear message from my duo partner and friend Mike Furtwängler was simple: "if not now, then when?!" This challenge ultimately led to the decision to get to work. The pandemic actually afforded me two important prerequisites for producing an album: calm and serenity. If the Coronavirus hadn't forced me to drastically change my hectic routine, these songs would probably never see the light of day.
In this respect, the over 20-month forced break from performing as an event musician had its good side: time to pause and take stock. The basic idea was to create a kind of cross-section of my work as a songwriter over the last 30 years, for the most part with previously unreleased material. The result is an album with 13 songs, the oldest from 1988, the youngest from January 2021. All of them were re-recorded or supplemented and refined between April and August 2021.
As we worked on the songs, Mike and I recognized an astonishing common thread through the lyrics, unaffected by the passage of time between their creation. Apparently, despite numerous existential changes over the past 35 years, there is a constant theme running through my life, through my thoughts and ultimately through my music. This attribute, which I believe describes this album and my previous projects, is TIMELESSNESS.
Essential to the success of this project was a fortuitous discovery that I made at the end of 2020. In my hometown of Freiburg-Waltershofen, just two doors away, lived an exceptional young vocal talent by the name of Anthea Kassa. When we started recording the choir parts for the album in May, it became clear: this remarkable and relaxed young voice would not only be heard on one song. Anthea became an essential component in the refinement of the vocal tracks. What luck!
I was just as lucky to have my former guitar student and current musical companion Mike Furtwängler as a precise critic and source of ideas next to me at all times. I implemented some of his arrangement ideas and creative suggestions ("So, if you ask me … I would leave that out!" – "The vocals completely dry, no reverb, nothing!"), so the album includes certain passages that are in his handwriting.
Below is the "story behind the song" for each track with details about the studio work.
WHERE I´M GOING TO
Written in the early 90s as "Don't know where I'm going" and recorded as a simple note version. As far as I can remember, as a new father with new responsibilities, I was at a crossroads with regard to my professional and musical future. In 1992 I ended my work as a civil servant (Police) and started my own business. The song disappeared in the archive. This was followed by the construction of a studio for my "favorite drummer" Christophe Simon in Alsace/France, our joint album FEEDING THE FLAME in 1995 and many great concerts (including as a supporting act for The Stranglers). It wasn't until years later that I started working on the song again. In 2010 I re-recorded it, rhythmically inspired by the groove of a song by Eric Clapton. In 2012, after the death of a dear contemporary, the entire second stanza was changed: "I heard the news today, another friend has passed away…". Sadly, this verse was imbued with even more meaning after the track was finished. The news of the death of my fellow musician and insurance advisor Jens Kreuzer at the end of July was very painful. Dear Jens, this verse is now dedicated to you with thanks for being how and what you were.
HOMEWARD BOUND
Written and recorded for the first time in 2010. Published on Youtube at the end of the same year. Mostly re-recorded in June 2021. The text was inspired by a trip home after a band performance in the Vosges. Light rain, pitch black and in the distance the lights of Mulhouse … my beloved Alsace by night.
For me it is a typical road song, an homage to the life of a musician with the constant driving away and coming home. In this case, I was coming home to tell my young daughter Lara spontaneously made up stories to help her fall asleep. Lara's small, fine saxophone fragments from the 2010 recordings can also be heard in the new version.
NOW THERE IS YOU –  First single now on Spotify: Enrico Novi – Now there is you
Made in 1995/96, recorded as a demo version. I have returned to it over and over again in the intervening years and listened to it with pleasure, but it has neither been played live nor officially published. Motto: The right time will come. And it's finally arrived. My inspiration back then was the birth of my first daughter Lisa and the way she changed my life. The phrase "Destination is a far away place" led to the title of the album.
BLOOD BETWEEN THE LINES
This song is an indictment and, in a way, a settlement with the human species. Written and recorded for the first time in 1988. New recording in May 1991 in the studio of Erdal Kizilcay (David Bowie) in CH-Neuchâtel. Always played live with the band in the 90s, with French lyrics from 1996. Then rested in the archive until June 2021, and in view of recent world developments a new interpretation was necessary. It is also an ideal opportunity to combine my two favorite foreign languages, French & English, in one song.
The text follows my knowledge, which has existed since my youth, that the whole of human history was permanently written with "blood between the lines". And it couldn't be more topical. Because nothing has improved since 1988, on the contrary. I am stunned, sad and filled with inner anger about the collective failure in Afghanistan and am ashamed of the major politicians – they don't do it themselves (what exactly do you mean by this?) – who have told the world for years, despite the warnings of many experts, fairy tales and lies. The relevance of this 33 year old song to the here and now is a confirmation for me, but I am rather shocked about it. As noted in the album booklet, I dedicate the song to the activist Laleh Osmany and her colleagues on behalf of many courageous women and girls in Afghanistan. I´m currently in contact with Laleh via Instagram to encourage her as good as possible from far away. She is in constant fear of being killed. Of course, I hope very much that there will be a solution to go back to Afghanistan as a free and self-determined woman. All the best, Laleh!
For the solo part I consciously wanted a bluesy harmonica with a "tortured" sound. The requirement for the wonderful Martin Krüger was: "An atmosphere like that of Charles Bronson in 'One upon a time in the West'". Thank you, Martin – mission accomplished!
The icing on the cake was Ranjana Schneider with her saxophone, who completely unexpectedly became my second discovery here in town after Anthea. What luck – two top talents in little Waltershofen. While warming up for another song, Ranjana improvised some jazzy melodies and I said spontaneously: "Hey, sounds great, I have an idea, let's try something … just play it". Et voilà – with the outro of the song, another highlight of the album was created.
PRECIOUS MOMENTS
November 2020 brought the second corona lockdown and the cancellation of all  of my scheduled performances including on New Year's Eve. I was really fed up. How should I deal with it? Getting excited again, like in the spring? Moping around in a bad mood every day? Complaining to whoever would listen? Not effective.
In short – at the end of the year a song with a video and a message would be produced. The result was a loving, sarcastic, nasty processing of this first corona year. It started with the hectic escape from a long curfew in Spain in March – with the very last plane to Germany from Seville, 30 minutes before everything was shut down. Great luck! Shortly thereafter, within a few hours, came cancellation reports for all concerts and events until at least summer, then until autumn … a shock. These experiences and the otherwise well-known drama from March-June 2020 provided the template for the text. In the middle part of the song I unequivocally settled accounts with all the self-proclaimed Corona watchdogs here in my hometown and elsewhere, which was a real need for me. Together with Mike I produced the video in December. Search YouTube for "Enrico Novi Precious Moments". On this album comes the official audio version. Be happy – enjoy 😉
I REMIND YOU
A song from 2006. Recorded as a demo version with programmed drums and saved in the archive. In 2020 it was the ideal cool, casual number to take part in the "Klangspektrum Baden-Württemberg" competition and was published on the internet as a co-winner. It was completed with new production and real drums and other guitars in summer 2020. It was further refined in May 2021 with a new 12-string guitar from GUILD, the "Tom Petty model". This was hard to find, but my guitar friend Tom Mueller made it happen. Another piece of luck! Thanks so much, buddy!
What is the song about? In short, it is about being aware of how short life is. Or as a friend has repeatedly put it: "The most important thing is to stay calm." In this respect, I REMIND YOU is also a self-reflective constant wake-up call.
SUMMER RAIN
One of my key pieces for the past 35 years. Written in 1996 and recorded in my former studio in Horbourg-Wihr (Alsace) with Niels Kaiser on the electric guitar. Revised and published on the album POP GALLERY in 2004. It was completely re-recorded in June and July 2021. The inspiration for the lyrics came to me back in the 80s when Erwin Kühnle (a former work colleague) told me about his near-death experience in connection with a heart operation. I was fascinated by his descriptions of "bright, wonderful light", of an environment in "strong colors" and a sense of wellbeing that turned into disappointment when he saw the barren walls of the clinic room again. I can't forget that story. The title Summer Rain is a metaphor that arose from the idea that there might be something liberating and refreshing about dying – just like a summer rain.
For the instrumental middle part, which is supposed to musically depict gently falling raindrops in different forms, I consciously wanted a saxophone as a solo instrument to complement the various guitar figures. Ranjana Schneider was in the right place at the right time: three streets away in Waltershofen. How wonderful! We were singing in the rain …
POISON OUT
In 1995 the first and only album by the band NOVI was released. Back then we were: Niels Kaiser (guitar), Christophe Simon (drums) and Philippe Sissler (base). "My best band ever" – as I like to say. POISON OUT was the only rock´n´roll song on the album, rough and unpolished. However, the number worked more on stage than on record. This impression has not changed to this day. I found the guitar hookline so concise and the song so catchy that I decided to make something new out of it. The trick: "Halve" the tempo and start knocking on the drums. After the first few attempts, it was clear to me: I'll show the rest of the world that I can still do different things and that after 14 years of acoustic guitar on stage I haven't forgotten how to play electric 6-string. It was really a pleasure to "let my hair down" again. If anyone thinks of John Bonham or Ian Paice when it comes to the drums – no problem, I do too 😉
The little guitar battle in the finale between 2 tracks is another reminiscence of the 70s, which shaped me musically.
The text, the subject? The gentleman is silent …    Okay, one sentence: It's been a turbulent year and a half. Kiss to F.P.
6:30 ON SUNDAY
This song is a pure declaration of love. A wellness bath. Or as Mike says: "My favorite number on the record". Written and recorded in 2010. The guitar and bass tracks from the initial recording have been used in full. I couldn't have managed it today in this atmosphere and the inner mood of the time. Drums & percussions were re-recorded. The text does not need any explanation, but a few words about the music: In retrospect, creating a song with this intensity and the "spaces" was only possible through the inspiration of famous musician and fellow producer Daniel Lanois. For those who don't know him, he produced some of the great U2 and Peter Gabriel classics, and has also worked with Emmylou Harris, Bob Dylan and more. My friend Alex Perin recommended that I check him out back in 1992. Since then, Lanois has been a kind of teacher in spirit, a producer role model. How often do I still hear myself saying, "how does he do it?". A master of "spaces". And I keep learning …
NEED YOU
1993 – a year of upheaval and reorientation. Out of the "civil servant job" plus private separation – and into the struggle for existence. The inspiration for this song came from an encounter with "Eli" (Elisabeth) in a shop in the heart of Freiburg, where she worked. Over the course of weeks and months there were always spontaneous meetings and discussions in the town hall square. It was clear that it would never develop into anything, but at the same time a kind of familiarity developed that was very pleasant, even exciting. Was I wrong with the impression that she, too, was in some way reorienting herself in terms of relationships? I wasn't sure … Anyway, she gave me the inspiration for this text, which has been with me for almost 30 years. It's about time to finally get it out there. Completely re-recorded in spring 2021. With the drums, then as now, I deliberately left out the leading "hi-hat" hit on the 2 and the 4 – a technique copied from Charlie Watts, whose change to this effect in the end of the 70s I could never really understand. So his style lives on a little bit in this song. My favorite part is the last refrain with Anthea: "… need you as well". This was the first song that she ever recorded in a studio, which makes her remarkable performance even more impressive. Great moment!
DON'T LEAVE WITHOUT A TRACE
My musician friend and musical mentor Alex Perin died on October 24th, 2012. His body could no longer deal with his penchant for hard liquor. He was a brilliant guitarist and was affectionately deemed the "Jeff Beck of Germany" by me. He had an adventurous vita: A guitar star in Romania at a young age, then a turbulent escape across different countries and finally to Germany. However, he never really arrived here, neither culturally nor in terms of his social behavior, according to my sober analysis in retrospect. However, there was still the emotional-musical side and that was much more important to me. That's why one thing is certain: He is and will remain one of the most important people in my life. A unique specimen with a great sense for fine details and, above all, the only one in the so-called "scene" in Freiburg at the time with its numerous provincial pomposity and small spirits, who dealt with me openly without arrogance, prejudice or stupid sayings. "I hear what I hear, I am not interested in the other," he often quoted. Long before I left the police force, he was fixated purely on the musical talents that I had to offer. He encouraged me and gave helpful tips that I was able to implement quickly. One of the highlights we had was a gig in Colmar in August 1991 in front of over 9,000 people as the supporting act of the legendary Dave Stewart (Eurythmics) and his band. That will not be forgotten.
The opening of the song comes from a solo that Alex recorded in 2004 for IN A DREAM on my album POP GALLERY. In the course of the song he can be heard several times with parts from this solo, which I was able to fit in a puzzle work. Vezi, draga mea, nu ai plecat fără să lași urmă! You see, my dear, you did not leave without leaving a trace.
All that remains for me to say is that I recorded the drums in 2013 under the premise "it should sound as cool and free as Charlie Watts". Now it involuntarily became an homage to one of my drum heroes. Thanks, Charlie, for being a member of one of my favorite bands of all time!
ON THE WATER
July 1995 – The Lake Festival in the Freiburg Seepark. On the first evening I was with the band on the floating stage for the presentation of the album FEEDING THE FLAME. On the second evening we performed at the rural district pavilion under the open sky in perfect summer weather. Thousands upon thousands moved past us at a snail's pace, hundreds lingered – and suddenly the fireworks went off. Instead of stopping, we just continued to play the current song ON THE WATER instrumentally and thus accompanied the fireworks. Big applause when this was over and we got back into the song. As great as this experience was, it was overshadowed by the recent massacre of Srebrenica in Bosnia. If the lyrics were already inspired by the constant reports about the Yugoslav war, the song and its message about the sea festival got an even deeper meaning through those terrible murders. And it has not lost this significance to this day. It remains as it is – a continuous peaceful life between peoples without murder and cruelty does not seem to be possible. Then as now, the metaphorical-biblical statement could be: It is time for someone to walk across the water again! However: Do you believe in miracles?
LAST GOODBYE
January 2021, shortly after the turn of the year. The Corona-Winter-Blues depresses the mind, ideal for calm jingling and jamming and leaving a few notes free up to a composition. This first musical creation of the year marks the worthy end to the album, but the song also represents the soulful conclusion of a whole life. Mike had the brilliant idea to connect the last track back to the first, WHERE I'M GOING TO, which led to the vocal passages in the finale with him, Anthea and me. It goes to the heart – goosebumps.